"Prediction is very difficult, especially if it's about the future."

– Niels Bohr
For the past two years, Kairos Power has been steadily growing, and there's a great deal of information to catch you up on. This first update is intended to provide perspective into the underlying business case behind Kairos Power, and the future commercial opportunity that drives our goal for U.S. demonstration of our reactor technology no later than 2030.
Internally, Kairos Power is working on aggressive schedule targets, as we know that if we successfully demonstrate the economics, reliability, and safety of our reactor technology, we will be able to benefit from a singular opportunity in the U.S. electricity market.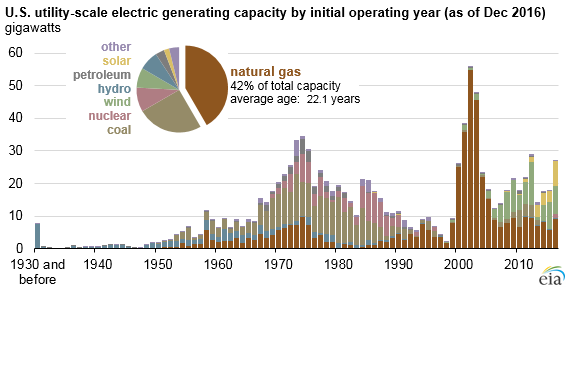 Source: U.S. Energy Information Administration, Preliminary Monthly Electric Generator Inventory
The data in the graph pictured in this post is central to Kairos Power's strategy and hints at our future potential, showing the current mix of U.S. electricity generating capacity by initial year of operation and fuel type.
The standout feature is the peak just after the year 2000, where the U.S. built out nearly 200 gigawatts of natural gas capacity in just a few years. For comparison, the entire U.S. nuclear capacity is about 100 gigawatts.
This buildout of natural gas has benefited from the availability of abundant low-cost fuel due to advances in hydraulic fracturing. It doesn't hurt that natural gas plants are well-suited for daily load-following to accommodate those markets with impactful wind and solar generation.
The result? The rise in natural gas generation as the dominant fuel for electricity in the U.S. and the expectation that this trend will continue for at least the next decade or two. Two questions come to mind: When will these plants retire, and what comes next when they need to be replaced?
The question of timing is the easier of the two, but still has uncertainty. Turbine vendors suggest a 30- to 40-year lifetime, but we have not lived through a complete lifecycle for the modern natural gas combined cycle plant. There may be ways to refurbish plants for better performance and extended life, or we may find that the load following history will take a toll and lead to earlier replacement.
In the simplest analysis, a 35-year lifetime indicates the turnover would start around 2035. Building new power plants cannot happen overnight, as natural gas plants take about three years from contract to grid connection, and current nuclear plants can take more than a decade. In order to meet this market opportunity, Kairos Power will need to push to complete U.S. licensing and initial demonstration of our reactor technology no later than 2030 in parallel with finding ways to accelerate the time it takes to get a reactor into the market. Both of these are big lifts, but they are essential.
The question of what comes next is impossible to answer confidently. If nothing changes, the answer would certainly be more natural gas plants. However, electricity markets are dynamic and our predictions on these time scales are almost always wrong. We can start to tackle this question by understanding which factors should determine what the market will favor and how they may play out in different scenarios.
We completed this exercise early on at Kairos Power and reached an important conclusion: Of the existing and potential future generating technologies, our reactor has unique potential to provide the combination of dispatchable, low-cost, zero-carbon electricity.
We are singularly focused on delivering a technology to meet these needs and we know that if we are successful in demonstrating our reactor's potential, we will be well on our way to achieving our mission, starting with a unique opportunity in the U.S. electricity market.
–Mike